Since June 2015 gems can also be found in the game posts shared by your neighbors, that's why sharing as many diggy posts on your wall as possible and clicking the link (be it manually or with the use of a collector) is something that gives benefits. Both you and your neighbor get the reward. Rewards are limited to 99 every 22 hours when claiming and the amounts are always the same.
There is no maximum on the rewards the person who has posted the link. If 200 people click on the link then he/she gets 200 rewards.
Click on the link to get a reward.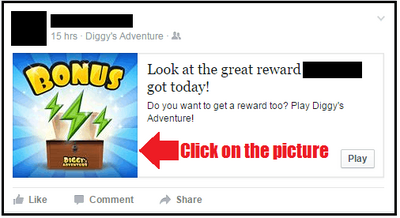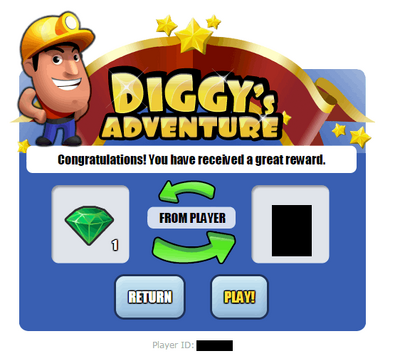 Number of rewards possible. Always the same for every 99 links per 22 hrs.
Note : Coin reward is 10 coin per link.
Collecting made easier
Players have come up with various methods of collecting the rewards.
Collecting links in groups
Most big groups now host special threads in which people can share their links and collect the links of other players. List of Facebook groups can be found here: Diggy Groups.
Collecting bonuses automatically with 3rd party applications
There is a number of ways in which you can automatically collect bonus links from all your friends. This is done with the use of the so-called collectors. These 3rd party applications are not made by Pixel Federation and the usage of them is not recommended by the developers because they are not responsible for them. Contrary to some opinions though, such applications are not considered cheating. In reality, most of the more hardcore players do use them.